ALERT... Due to Covid-19 it has become necessary to implement safety precautions so that we can keep everyone safe. Click here to view the class safety protocol.
Welcome to Nielsen Watercolors!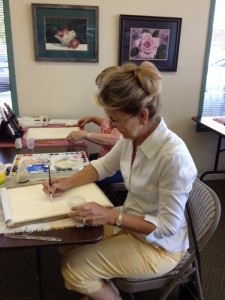 We offer painting classes in Grants Pass, Oregon for both aspiring and experienced water color artists in a fun and friendly environment. We have a full range of quality watercolor supplies available for sale. Artists who wish to have their paintings framed and matted, or made into greeting cards, are invited to contact us.
You have the exceptional ability to teach a difficult art form to novices and remain calm and professional while doing so. I have never felt a hint of criticism, but you still manage to make me see my errors and show me how to correct them.
-Marilyn Koch, Student
Come see Marianne's paintings at Art du Jour Gallery in Medford, OR. It's located at 213 E Main Street (across from the Craterion Theater). Gallery hours are 10 to 4, Tuesday through Saturday, and the 3rd Friday of each month until 8:00 pm.
Marianne will be the guest artist at Art du Jour Gallery during the months of April and May. She will be in residence during the Third Friday Art Walks to meet visitors and buyers of fine art. Come meet Marianne!
Marianne is a member of the Watercolor Society of Oregon.
Click on an image below to view Marianne Nielsen's paintings.