Class Schedule
Tuesdays, 10:00 am to 12:30 pm and 1:00 pm to 3:30 pm
Classes take place at the Fruitdale Grange, 1440 Parkdale Drive, Grants Pass, OR.
Our classes are 2-1/2 hours long (the fastest 2-1/2 hours you ever spent!). I teach 2 classes per week and teach in 3 week sessions. The cost is $60 per session – that's just $20 per class.
To view the 2021-2022 class schedule click here.
About the Classes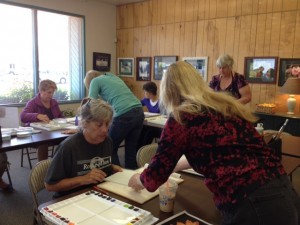 My classes are fun, informative and result oriented. We usually finish a painting in 2 to 3 weeks. I stress color and color mixing, texture, shading, shadows and reflections and the myriad techniques unique to watercolor. NO DRAWING SKILLS ARE REQUIRED. We paint a variety of subjects – florals, landscapes, animals, still life and much more.
You will be given a color photograph on the painting we will be doing and a black and white copy that will fit your watercolor paper. We then use graphite paper to trace the image from the black and white copy onto the watercolor paper so all the students are starting at the same place. I then will demonstrate the first step in the painting and the students then go and do it. Then demo the next step, etc. until we have a finished painting.
There are times when I will ask you to do some work at home before class. This includes doing the tracing and other prep for a new painting. That way we can spend more time in class actually painting. Also, some students paint faster or slower than others and I may ask everyone to get to the same point as we left off in class. Again, so students don't fall behind.
Supplies
Some students have never painted watercolors before and some are returning to the media and some have just dabbled in it.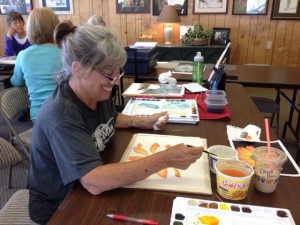 For totally new students, I sell a new student package with everything you will need to begin painting. It includes a palette filled with the 20+ colors we use, a supply of watercolor paper, 2 boards to mount the paper on, brushes, masking fluid, masking tape, pens, pencils, erasers, water containers and sprayers, ruler, and all the other tools we use on a regular basis. This package benefits both the student and me. The student does not have to run around and assemble everything and I know that we are all using the same paints and paper. This kit is a one-time cost of $275. (You could not go out and buy all the watercolor paints alone for much less.)
For those who have dabbled or are returning to watercolor and have already some supplies, I am open to having you bring what you already have on hand, the two exceptions being paint and paper. I don't really care what brushes, tools and masking fluid you use, but I have to insist that we all use the same paper and brand of paints. Otherwise, the results will not be the same as other brands of paper react differently and other brands of paint may mix differently. By using the same materials, no one will get frustrated.
The paper we use is Arches 300# cold press.
The paints we use are primarily Winsor Newton Artist Grade. Below is a list of colors and are all Winsor Newton unless noted otherwise:
Paynes Gray, French Ultramarine, Indrathrene Blue, Winsor Blue Red Shade, Winsor Blue Green Shade, Cobalt Blue, Leaf Green (Holbein), Green Gold, Perelyne Green, Buff Titanium (Daniel Smith), Winsor Lemon, Raw Sienna, New Gamboge, Quinacridone Gold, Brown Madder, Burnt Sienna, Winsor Orange, Quanacridone Magenta, Alizarin Crimson, Winsor Red Deep, Scarlet Lake, Permanent Rose, and Opera Rose.